ABOUT GIBSON
Gibson Brands, the world's most iconic guitar brand, has shaped the sounds of generations of musicians and music lovers across genres for more than 100 years. Founded in 1894 and headquartered in Nashville, TN, Gibson Brands has a legacy of world-class craftsmanship, legendary music partnerships and progressive product evolution that is unrivaled among musical instrument companies. The Gibson Brands portfolio includes Gibson, the number one guitar brand, as well as many of the most beloved and recognizable music brands, including Epiphone, Kramer, Steinberger, and the Gibson Pro Audio division comprised of KRK, Cerwin Vega, and Stanton DJ. Gibson Brands is dedicated to quality, innovation and sound excellence so that music lovers for generations to come will continue to experience music shaped by Gibson Brands.

---
James "JC" Curleigh Biography
Chief Executive Officer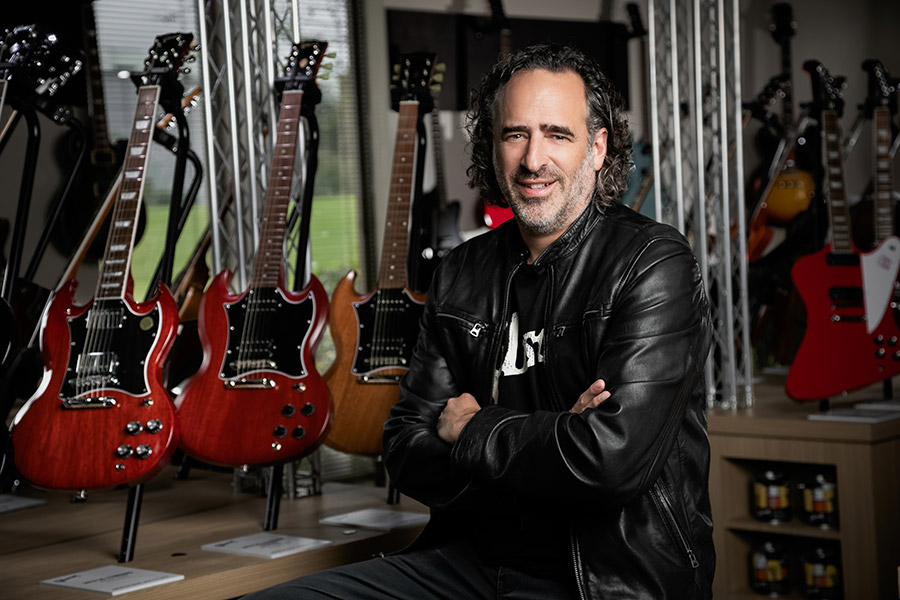 James "JC" Curleigh is Gibson's president and chief executive officer, where he leads the Gibson senior team of proven executives with broad experience in global brand building, finance and product development. JC is a guitar enthusiast and has been a proud owner of both Gibson and Epiphone guitars over the years, including his latest addition – a Gibson 1960's J-45 acoustic guitar.
Prior to joining Gibson, JC served as the president of the Levi's brand at Levi Strauss & Co., where he guided strategic shifts, leadership team evolution and market execution for all brands within the Levi Strauss & Co. portfolio, including Levi's, Dockers, Signature by Levi's Strauss and DENIZEN by Levi's. At Levi's he returned the brand to its iconic status and grew the business profitably every year under his leadership. He has a proven track record from Levi's of finding ways to leverage heritage and create modern solutions. JC (along with his team) is credited with being the driving force behind the Levi's resurgence.
Over the years, JC has built a reputation as a brand building expert and has crafted uniquely tailored solutions for a variety of other well-known consumer goods companies, including as president and CEO of KEEN Footwear and of Salomon Sports NA. At KEEN, he steered a young company to years of strong growth and developed a unique brand identity for its future. Additionally, under his leadership at Salomon, he expanded the ski company into a leading innovative action sports brand.
JC holds a bachelor's degree in commerce from St. Mary's University in Halifax, Nova Scotia, and has furthered his executive education at both Stanford and Harvard. He also has delivered several keynote speeches around the world on progressive brand building, business solutions, and team dynamics. He is a triple citizen of the U.S.A., Canada and the U.K. and is a member of the Board of Trustees for the Waterkeeper Alliance. He loves to play music, surf, ski and travel extensively with his wife and three kids.

Cesar Gueikian Biography
Chief Merchant Officer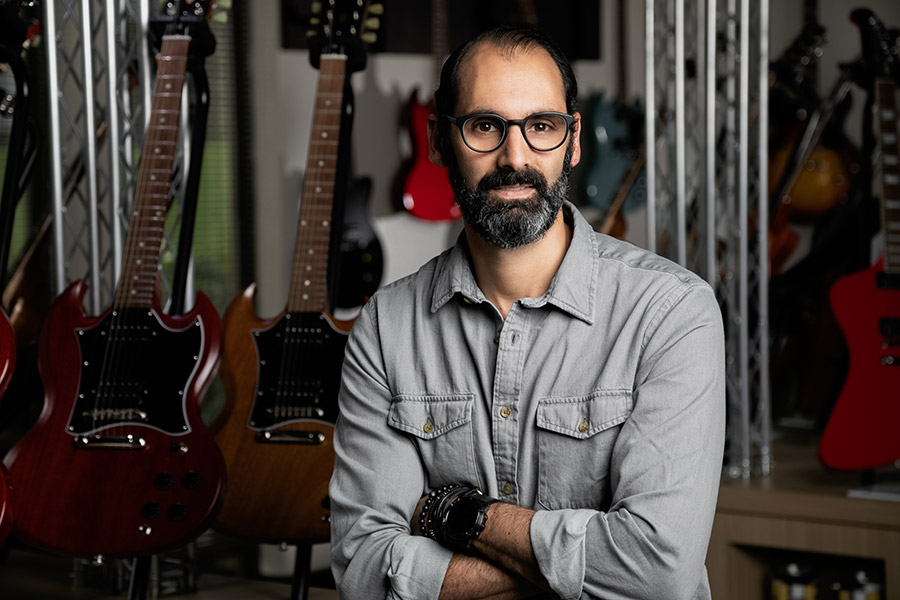 Cesar Gueikian is Gibson's chief merchant officer (CMO) overseeing product and its evolution, music solutions artist relations and marketing strategies. His role with Gibson melds his 20 years of experience as an entrepreneur and financier, investing in companies around the world, with his life-long passion for music, guitars and especially Gibson guitars.
Prior to joining Gibson, Cesar founded Melody Capital Partners, an alternative asset manager focused on private corporate financing and investing. Under his leadership, Melody grew from a seed investment of $100 million to more than $1.5 billion in assets under management. He focused on bringing troubled companies back into growth mode.
Prior to founding Melody, Cesar served as founder and global head of the Special Situations Group ("SSG") at UBS, as well as head of the firm's Leveraged Finance Capital Markets ("LCM") team for Europe, the Middle East and Africa. He has also headed Illiquid Credit Trading for North America at Merrill Lynch and he began his career at Deutsche Bank in London and New York.
Cesar earned a B.A. in Business from Universidad de San Andres, Buenos Aires, Argentina and an M.B.A. from The University of Chicago. An accomplished musician, guitarist and song-writer, Cesar picked up his first guitar at the age of 10 and performs an eclectic range of music genres, from Spanish to rock to heavy metal. Over the last 25 years he has performed and recorded with several heavy metal and rock bands and is an avid collector of vintage guitars, with a collection that includes over 100 guitars, of which 80 are Gibson guitars. Cesar also competed professionally on the international tennis tour, is a surfing enthusiast and self-described extreme sports junkie.

Kim Mattoon Biography
Chief Financial Officer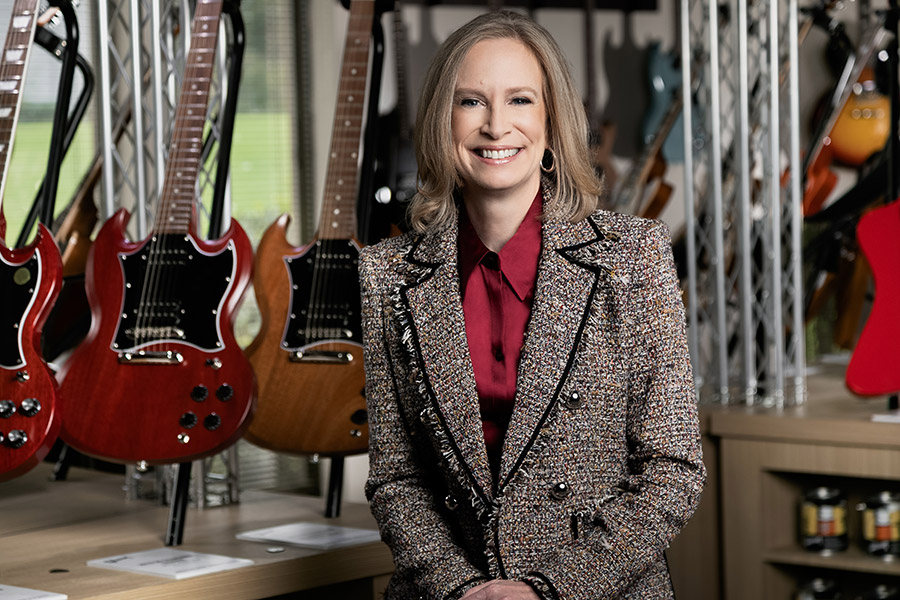 Kim Mattoon is Gibson's chief financial officer (CFO), overseeing Finance, IT, Human Resources, Legal, Facilities & Security, and Customer Service. She joined Gibson with nearly 25 years of experience connecting great consumer brand products with consumers, most recently as the chief operating officer of Richemont North America, a global luxury consumer products company.
At Richemont North America, Kim led the day-to-day commercial services and operating activities that supported the achievement of the region's strategic and financial goals. Under her guidance, Richemont established and enhanced the controls, administrative and reporting procedures, and people systems to effectively support and grow its business.
Prior to Richemont, Kim served as CFO at IWC Schaffhausen and Peter Millar – both Richemont portfolio companies – and as Vice President – Finance, Real Estate, and IT at The Body Shop. She began her career and spent 10 years at PricewaterhouseCoopers. During her time at IWC Schaffhausen, she worked from their headquarters in Switzerland, giving her unique international perspective and the opportunity to interact with a variety of consumer groups. Kim brings her strong financial acumen, ability to build global brands and deep understanding of enterprise-wide strategy execution to her role as CFO at Gibson.
Kim graduated magna cum laude with a BS in Accountancy from Wake Forest University and earned her CPA in 1994. Kim likes renovating old houses, reading, and playing golf with her husband and two children.

Jeremy Freckleton Biography
Chief Production Officer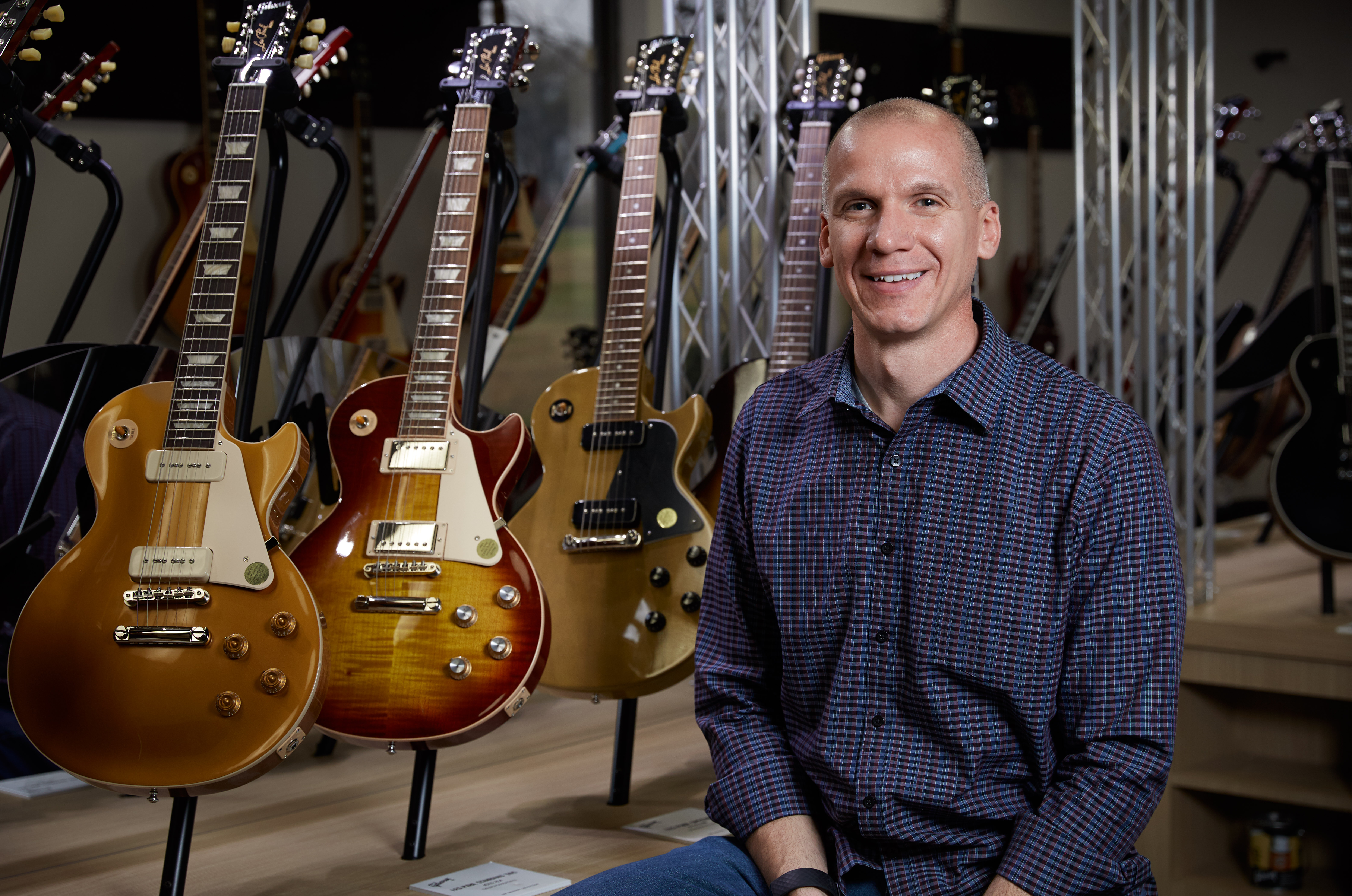 Jeremy Freckleton is Gibson's chief production officer (CPO) responsible for purchasing, operations and end-to-end supply chain. Jeremy joined Gibson with 20 years of broad operations and supply chain experience within textiles, automotive, and the consumer goods industries. Jeremy was most recently a vice-president of operations at Kohler Company, a leading global kitchen and bath designer and manufacturer.
At Kohler, Jeremy was responsible for daily performance of eight manufacturing plants in North America with over one billion in sales revenue. His leadership fostered improvement in employee safety, engagement, quality, and delivery. He was previously the global director of quality and continuous improvement, leading operational transformation in over 30 facilities across Asia, Europe, and North America.
Prior to Kohler, Jeremy worked at Electrolux Appliances as the director of lean manufacturing for North America. Jeremy started his career with Frontier and Guilford Mills, leading textile manufacturers in the apparel and automotive industries that still have a strong manufacturing presence in the United States today.
Jeremy earned his B.S. and Masters in Engineering degrees from North Carolina State University. Jeremy enjoys reading, skiing, golf and all that life has to offer with his wife of 20+ years and three teenage children.